Crosstalk between the Warburg effect, redox regulation and autophagy induction in tumourigenesis
Mokgadi Violet Gwangwa

1,

Anna Margaretha Joubert

1 and

Michelle Helen Visagie

1

Email author
Cellular & Molecular Biology Letters
2018
23:20
Received: 16 January 2018
Accepted: 27 April 2018
Published: 4 May 2018
Abstract
Tumourigenic tissue uses modified metabolic signalling pathways in order to support hyperproliferation and survival. Cancer-associated aerobic glycolysis resulting in lactic acid production was described nearly 100 years ago. Furthermore, increased reactive oxygen species (ROS) and lactate quantities increase metabolic, survival and proliferation signalling, resulting in increased tumourigenesis. In order to maintain redox balance, the cell possesses innate antioxidant defence systems such as superoxide dismutase, catalase and glutathione. Several stimuli including cells deprived of nutrients or failure of antioxidant systems result in oxidative stress and cell death induction. Among the cell death machinery is autophagy, a compensatory mechanism whereby energy is produced from damaged and/or redundant organelles and proteins, which prevents the accumulation of waste products, thereby maintaining homeostasis. Furthermore, autophagy is maintained by several pathways including phosphoinositol 3 kinases, the mitogen-activated protein kinase family, hypoxia-inducible factor, avian myelocytomatosis viral oncogene homolog and protein kinase receptor-like endoplasmic reticulum kinase. The persistent potential of cancer metabolism, redox regulation and the crosstalk with autophagy in scientific investigation pertains to its ability to uncover essential aspects of tumourigenic transformation. This may result in clinical translational possibilities to exploit tumourigenic oxidative status and autophagy to advance our capabilities to diagnose, monitor and treat cancer.
Keywords
Warburg effectAutophagyOxidative stressCancer
Background
In non-tumourigenic cells, glycolysis is a highly regulated and conserved metabolic process in the cytoplasm in which glucose is converted to pyruvate by a series of enzymatic steps. Pyruvate is converted to acetyl coenzyme A, which produces adenosine triphosphate (ATP) via the tricarboxylic acid cycle in the mitochondria involving oxidative phosphorylation (OXPHOS) [
1
]. Glutaminolysis is a process whereby glutamine is converted to intermediates of the tricarboxylic acid cycle through a series of enzymatic steps. Initially, glutamine is oxidized, forming glutamate that is subsequently converted into α-ketoglutarate, which enters the tricarboxylic acid cycle to provide the metabolic intermediates [
2
]. However, tumourigenic cells possess aberrant metabolic programming that supports hyperproliferation, survival and long-term maintenance that is characterised by the Warburg effect and increased glycolysis and glutaminolysis (Fig.
1
) [
3
,
4
].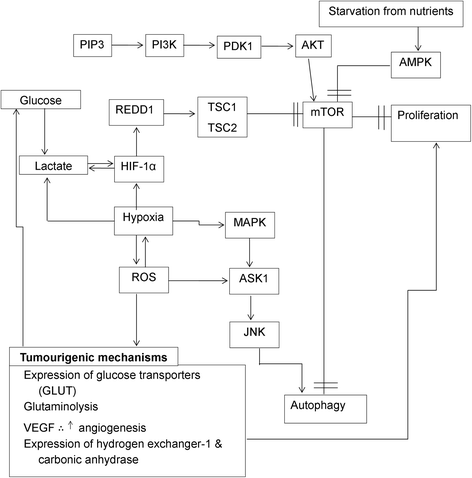 OXPHOS in the mitochondria generates 36 ATP molecules from 1 molecule of glucose compared to tumourigenic aberrant glycolysis that only produces 2 ATP molecules from 1 molecule of glucose. In order to compensate for the low ATP output per glucose molecule, tumourigenic cells increase the uptake of glucose by several ways including upregulated glucose transporter 1 (GLUT1) expression (Fig. 1) [5]. GLUT1 overexpression is found in several types of cancer and is associated with poor clinical outcomes in lung cancer, breast cancer, oesophageal cancer, hepatocellular carcinoma, gallbladder carcinoma, colorectal cancer, ovarian cancer and bladder cancer [6–8]. Lee et al. [9] reported that phosphorylation of GLUT1 on Ser226 by protein kinase C regulates glucose transport and GLUT1 deficiency syndrome also demonstrated impaired Ser226 phosphorylation. In addition, a known glucose uptake inducer, 12-O-tetradecanoyl-phorbol-13-acetate (TPA), increases GLUT1 cell surface localization and GLUT1 phosphorylation on Ser226 [9].
The increased requirement for energy production and synthesis of macromolecules results in increased transport of the required nutrients from the environment. Two key nutrients amongst these are glucose and glutamine. Tumourigenic cells consume glucose and glutamine at a higher rate when compared to non-tumourigenic or differentiated tissue and are therefore described as being addicted to glucose and glutamine [4, 10]. The increased consumption of glucose and glutamine yields upregulated carbon sources for anabolic processes and proliferation. The excess carbon is directed towards multiple pathways including glycolysis, glutaminolysis, fatty acid synthesis, nucleic acid production and the pentose phosphate pathway (PPP), resulting in synthesis of macromolecules including nucleotides, lipids and proteins [11].
The Warburg effect describes a hallmark of cancer where glycolysis results in lactate production even in aerobic conditions [1, 3, 4]. Furthermore, Warburg reported that tumourigenic cells exhibit defective mitochondrial OXPHOS that results in switching metabolic energy production to glycolysis. However, decades later we now have research indicating that the mitochondria in tumourigenic cells are not damaged or defective and OXPHOS still takes place in tumourigenic cells proportionally to oxygen supply. However, the rate of glycolysis is drastically upregulated, resulting in lactate production irrespective of oxygen availability [12]. Tumourigenic cells also metabolise glucose by means of the PPP, resulting in nicotinamide adenine dinucleotide phosphate hydrogen (NADPH) production. NADPH also promotes anabolism and favours tumourigenesis by enhancing the antioxidant defence system against hostile environments, radiation and chemotherapeutic compounds [13]. Furthermore, PPP increases generation of ribose-5-phosphate, which is required for the production of nucleic acids. In addition, NADPH also promotes fatty acid synthesis [14].
Increased glucose metabolism by means of tumourigenic glycolysis generates lactic acid and subsequently generates an acidic and hypoxic microenvironment which promotes tumourigenesis, invasion, metastasis and survival and is correlated with clinical prognosis and outcome. Hypoxia increases glucose consumption and subsequent glycolysis, re-enforcing the acidic and hypoxic microenvironment that is beneficial for tumourigenesis [15]. Acidic microenvironments are toxic to non-tumourigenic cells; however, in tumourigenic acidic microenvironments this promotes degradation of the extracellular matrix by proteinases, increases angiogenesis through vascular endothelial growth factor (VEGF) and inhibits the immune response to tumour antigens. As the extracellular matrix is degraded by the proteinases, the open space is invaded by tumourigenic cells. Further adaptations to promote acidic and hypoxic conditions include upregulation of hydrogen exchanger-1 and carbonic anhydrase [16].
Tumourigenesis is characterised by several genotypic and phenotypic metabolic alterations that allow for the increased metabolic activity and proliferation [17]. Cell metabolism is a complicated network of interconnected pathways and impacts overall tumour survival. Research is still ongoing in aberrant cancer metabolic processing and novel therapeutics may selectively target tumourigenic cells by obstructing the metabolic evolution. This is of great importance since the altered tumourigenic metabolism has been reported to be essential in limitless proliferation and resistance to apoptosis induction [18].
Conclusion
Research has shown that autophagy mediates cancer cell metabolism, allowing for hyperproliferation by providing amino acids and other building blocks when the macromolecules are unavailable from other sources [125]. Autophagy has also been shown to be required for tumourigenic cell survival during hypoxic stress in order to combat oxidative stress [90]. Hypoxia, which is a characteristic of cancerous cells, produces moderately high levels of ROS leading to the induction of autophagy [126]. ROS enhances the PI3K pathway, which is already hyperactivated in cancerous cells. It is stated in the literature that activation of the PI3K pathway, which is hyperactivated by cell growth producing growth factor signalling, leads to increased proliferation and cellular mobility and promotes cell survival. ROS also activate HIF, which is a pathway activated upon hypoxic conditions and as is known to be a prominent state in tumour cells [77]. Tumourigenic cells activate HIF-1, resulting in transcription activation, in order to adapt to the hypoxic condition. The transcription targets of the HIFs promote cell survival in hypoxic conditions, shifting metabolism in order to increase aerobic glycolysis and angiogenesis [127, 128].
Hypoxia and nutrient deprivation increase the AMP/ATP ratio, which subsequently leads to the activation of AMPK, thereby inhibiting mTORC1 and activating autophagy [62]. Furthermore, ROS (hydrogen peroxide) is also known to induce autophagy in cancer by means of oxidising ATG4, followed by the removal of lipids and protein maturation of ATG4, resulting in LC3-associated autophagosomes [125]. Increased H2O2 production causes oxidative stress and AMPK phosphorylation by an upstream kinase (AMPKK), resulting in autophagy induction [62].
Autophagy and oxidative stress are both involved in a complex signalling network in tumourigenesis pertaining to major processes including proliferation, metabolism, angiogenesis, oxidative stress and resistance to cell death (autophagy and apoptosis) and oxidative stress [129]. In addition, tumourigenic cells possess increased metabolic activities which produce high ROS quantities contributing to hyperproliferation and increased cell survival, in turn contributing to chemo- and radiosensitivity [130, 131]. The interactions of the pathways and processes are evidently tightly linked, but are not well documented in the literature as one complete or linked process. The manner in which metabolism autophagy as well as ROS interacts along with the pathways involved will contribute to novel and more effective methods to target tumourigenic cells in order to reduce the high cancer prevalence. The bimodal nature of ROS and its influence on autophagy by means of pro-survival and pro-death signalling requires elucidation in order to identify novel biochemical targets for chemotherapy and increased efficacy in current treatment options.
Abbreviations
ALDH:

Aldehyde dehydrogenase
AMP:

Adenosine monophosphate
AMPK:

5′-Adenosine monophosphate-activated protein kinase
ASK1:

Apoptosis signal-regulated kinase 1
ATG:

Autophagy-related protein
ATG14L:

ATG14-like protein
ATP:

Adenosine triphosphate
Bcl-2:

B-cell lymphoma 2
BIF 1:

B-cell lymphoma-2 associated X protein-interacting factor 1
CAMKK-ß:

Calmodulin-dependent protein kinase kinase beta
CBP:

CREB-binding protein
CD44v8-10:

CD44 variant isoform containing variable exon 8-10
Cdk1:

Cyclin dependent kinase 1
CXCL12:

C-X-C motif chemokine 12
CXCR4:

C-X-C chemokine receptor type 4
DDR:

DNA damage response
Deptor:

DEP domain-containing mTOR-interacting protein
DNA:

Deoxyribonucleic acid
Dvl:

Dishevelled
ERK1/2:

Extracellular signal-regulated kinase
FIP 200:

Focal adhesion kinase family interacting protein 200 kDa
FOXM1:

Forkhead Box M1
FOXO3:

Forkhead box 3
GLUT1:

Glucose transporter 1
JNK:

C-Jun N-terminal kinase
TPA:

12-O-Tetradecanoyl-phorbol-13-acetate
xCT:

Cysteine/glutamate antiporter
GSH:

Glutathione
GM-CSF:

Granulocyte-macrophage colony stimulating factor
GTPases:

Guanine triphosphatases
HIF:

Hypoxia-inducible factor
H2O2 :

Hydrogen peroxide
OH:

Hydroxyl radical
LAMP-2A:

Lysosomal-associated membrane protein 2A
Mn:

Manganese
mLST8:

Mammalian lethal with SEC13 protein 8
mSIN1:

Mammalian stress-activated map kinase interacting protein
mTOR:

Mammalian target of rapamycin
LC3:

Microtubule-associated protein 1A/1B-light chain 3
MAPK:

Mitogen-activated protein kinase
MCTs:

Monocarboxylate transporters
MMTV:

Mouse mammary tumour virus
c-Myc:

Myelocytomatosis oncogene
Nox1:

NADPH oxidase 1
NADH:

Nicotinamide adenine dinucleotide hydrogen
NADPH:

Nicotinamide adenine dinucleotide phosphate hydrogen
NF-kB:

Nuclear factor kappa B
OXPHOS:

Oxidative phosphorylation
PPP:

Pentose phosphate pathway
PTEN:

Phosphatase and tensin homolog
PI:

Phosphatidylinositol
PIP2:

Phosphatidylinositol-4,5-bisphosphate
PI3K:

Phosphoinositide 3-kinase
PRAS40:

Proline-rich AKT substrate 40 kDa
Protor:

Protein observed with Rictor
Akt:

Protein kinase B
PKM2:

Pyruvate kinase M2
Rac1:

Ras-related C3 botulinum toxin substrate 1
S6K:

Ribosomal protein S6 kinase
Rictor:

Rapamycin-insensitive companion of mTOR complex 2
Raptor:

Regulatory-associated protein mTOR complex 1
REDD1:

Regulated in development and DNA damage response 1
Rheb:

RAS homolog enriched in brain
ROS:

Reactive oxygen species
Rubicon:

RUN domain protein as Beclin 1 interacting and cysteine-rich containing
HORMA:

Scaffold and the Hop/Rev7/Mad2
STK11:

Serine/threonine-protein kinase 11
SAPK:

Stress-activated protein kinase
O2 :

Superoxide
SOD:

Superoxide dismutase
PRDX3:

Thioredoxin-dependent peroxidase reductase
NRX:

Thioredoxin-like protein nucleoredoxin
TCF:

Ternary complex factor
TOS:

TOR signalling
TSC:

Tuberous sclerosis complex
TNFα:

Tumour necrosis factor alpha
TSC2:

Tumour suppressor tuberin
UVRAG:

Ultraviolet irradiation resistance-associated gene
ULK1:

Unc-51 like autophagy activating kinase
VPS34:

Vacuolar protein sorting 34
VEGF:

Vascular endothelial growth factor
Vav2:

Vav guanine nucleotide exchange factor 2
Wnt:

Wingless-type MMTV integration site family
Declarations
Funding
This study was supported by grants from the Cancer Association of South Africa, the Medical Research Council, the National Research Foundation, Struwig Germeshuysen Trust and the School of Medicine Research Committee of the Faculty of Health Sciences, University of Pretoria.
Authors' contributions
Initial compilation of manuscript was done by MVG and MHV. Editing and final compilation of manuscript was performed by MVG, AMJ and MHV. MHV and AMJ were responsible for supervision and acquisition of funds. All authors have read and approve of the final manuscript.
Ethics approval and consent to participate
Not applicable.
Competing interests
The authors declare they have no competing interests.
Publisher's Note
Springer Nature remains neutral with regard to jurisdictional claims in published maps and institutional affiliations.
Open AccessThis article is distributed under the terms of the Creative Commons Attribution 4.0 International License (http://creativecommons.org/licenses/by/4.0/), which permits unrestricted use, distribution, and reproduction in any medium, provided you give appropriate credit to the original author(s) and the source, provide a link to the Creative Commons license, and indicate if changes were made. The Creative Commons Public Domain Dedication waiver (http://creativecommons.org/publicdomain/zero/1.0/) applies to the data made available in this article, unless otherwise stated.
Authors' Affiliations
(1)
Department of Physiology, Faculty of Health Sciences, University of Pretoria, Arcadia, South Africa